The Tiny Tanks game is one of the leading tank games that are enjoyed by thousands of people all over the world.
If you're a person who loves tanks, this probably is the best game for you out there. What makes tiny tank a very special game is its simple navigation. All you need to navigate your tank is the arrow buttons on your keyboard and the mouse buttons to fire. You can play it with your friends because it is a multiplayer game. 8 players can play at one time. So start playing game now and enjoy it with your friends.
Game play:
When the game starts, your tank will be automatically moving but you also have control over navigation. You can use the arrow keys to move the tank to left or right, and also the back-and-forth direction. You will be using the arrow keys extensively to save yourself from enemy missiles and firing.
Left click of the mouse button fires a missile against your enemy. Sometimes, you have to deal with more than one tank and the situation can be really challenging. You can't stay at specific place while fighting your enemies because by staying idle, you are more exposed to missiles.
You also have to bring down the enemy outposts and there are fuel tankers at random places. Crashing the fuel tanker can destroy your tank so you have to keep yourself away from them. Sometimes, the enemy tank can push you very close to the fuel storage and escaping can be really tough.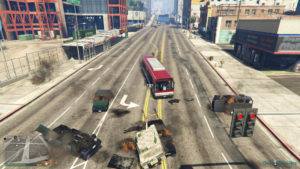 Verdict:
Tiny tank game is not just about attacking your enemies but game mostly about keeping yourself safe from enemy tanks. Interestingly, the game is really fast and need your complete attention from the moment you push the start button. Even a second's lack of attention can cost your health, thus the game reaching an end. For those who allow dedicated game play, there are not many games that can challenge tiny tank. Tiny Tank is also known for its incredible graphics. Graphics is truly unbeatable, especially for an online game. You can load the game in a few seconds and it's extremely convenient. There is no better way for you to give yourself engaged in your spare time. Tiny Tank can be best passive distraction that you can ever get involved in. Since a lot of tank games are surfacing each day, it's tough for us to find best ones.
But Tiny Tank can make exception regardless of your age and passion on video games. You have to choose it to play in free time. There are number of games available online to play. You must have to play tank games. These games are best and you will get lots of fun while playing this game. You need to know about these games and have to play it for once. Give one try to this game and play it in your free time.